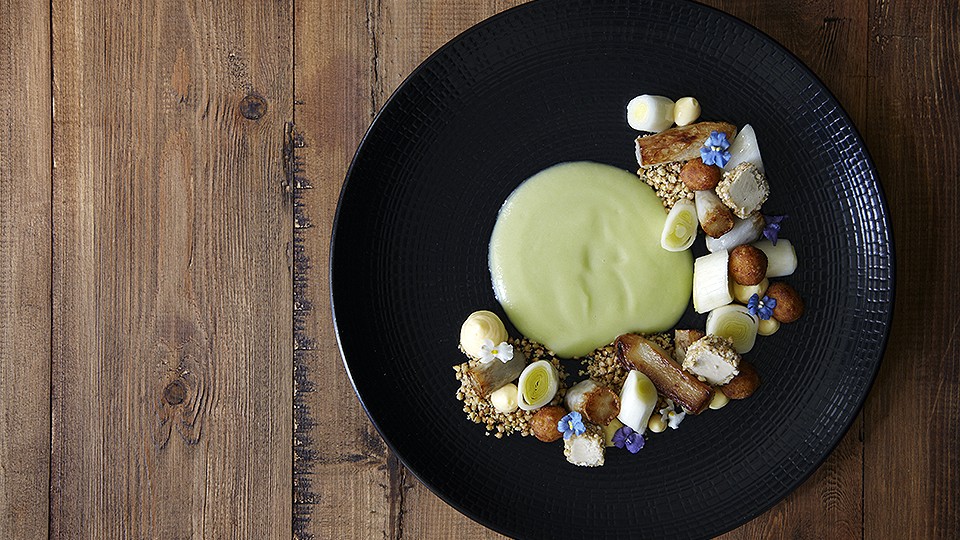 Vanilla Black
17-18 Took's Court, London, EC4A 1LB, United Kingdom
We became vegetarian for no major reason. No dreadlocks were involved. We didn't hug trees and we kept our leather settee. We just stopped eating meat and fish. If someone had told us at the age of 16 that we would be vegetarian adults we would have laughed.

But we liked eating out, and when we went to a restaurant the vegetarian option was mainly mushroom risotto or Halloumi kebabs.

We would often say that we didn't need to see the menu in most restaurants as we knew what was going to be on it already.

So, we decided to open our own vegetarian restaurant back in 2004. We set some standards for the food: no dish would rely on pasta, meat substitutes or heavy spicing.

The fact that it is vegetarian is not the point; in fact, it's neither here nor there. The dishes we create here are forward thinking, our food is challenging. It's different. Smashing stereotypes.

'Apologies in advance, no pasta bake or vegetable curry'. We didn't think we would have to put that warning on our website, but we did.

Thank you for visiting Vanilla Black and we hope you enjoy dining with us.
Style of food (eatery):
Modern
Vegan
Vegetarian
Available beverages:
Licensed to sell alcohol
Menu example (eatery):
Cornmeal, Beetroot and Horseradish with Black Garlic Oil;
Cauliflower, Fennel Pollen and Pistachio with Apple Purée;
Artichokes in Hay, Caramelised Chicory and Hazelnut Milk;
Soya Curd,
Average mains costs (eatery):
A La Carte: 2 courses: £31; 3 courses: £41.50; Lunch: 2 courses £21.50; 3 courses: £26.50
How well does it cater for vegans?:
Vegan-friendly
Vegetarian
BUSINESS REVIEWS
0.0 average based on 0 Reviews
---
There are no reviews at the moment
17-18 Took's Court, London, EC4A 1LB, United Kingdom