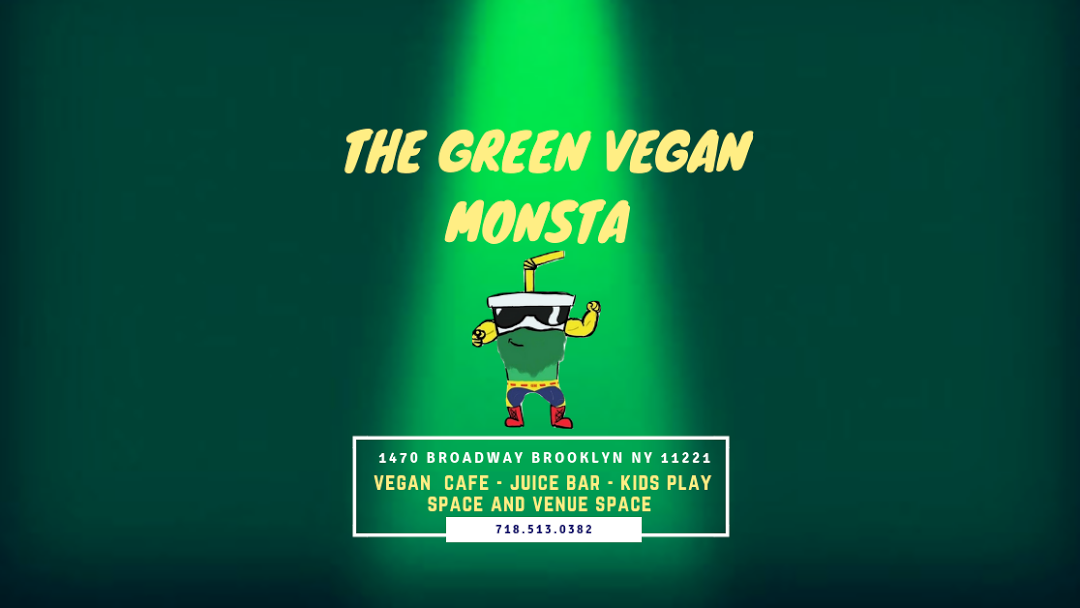 The Green Vegan Monsta
1470 Broadway, New York, 11221, United States
Who We Are
The Green Vegan Monsta is a 100% vegan cafe, juice bar, kids play space & venue space in the Bushwick section of Brooklyn. All of our food is prepared without any oils or frying to truly embody the nutrients of the food.
What We Offer
The Green Vegan Monsta is fully committed to providing high quality vegan food and drinks for the community and beyond.We solely utilize organic fruits and vegetables - no shortcuts here! We have an impressive selection of vegan grab and go items including a kombucha on tap and a dedicated kids play space equipped with a smart TV, books and toys! Our vegan venue space - The GM 1470 - is equipped with a projector, blu-ray player, sound system, xbox and more. We offer many programs to the community with suggested donations to keep costs down and to promote a safe, local plant based experiences.
What Makes Us Different
As a 4 in 1 establishment, (cafe, juice bar, kids play space & venue space) we provide the missing element in the family dining experience. Plant based foods are here to stay and our mission is to provide nurshing food, drinks and experiences that promote healthy living. We are committed to inclusion and have even incorporated a priority seating area for nursing mother's and caretakers tending to small children.
Style of food (eatery):
American
Vegan
Available beverages:
Offers non-dairy milks
How well does it cater for vegans?:
Vegan
BUSINESS REVIEWS
0.0 average based on 0 Reviews
---
There are no reviews at the moment
1470 Broadway, New York, 11221, United States