Govinda's Vegetarian Buffet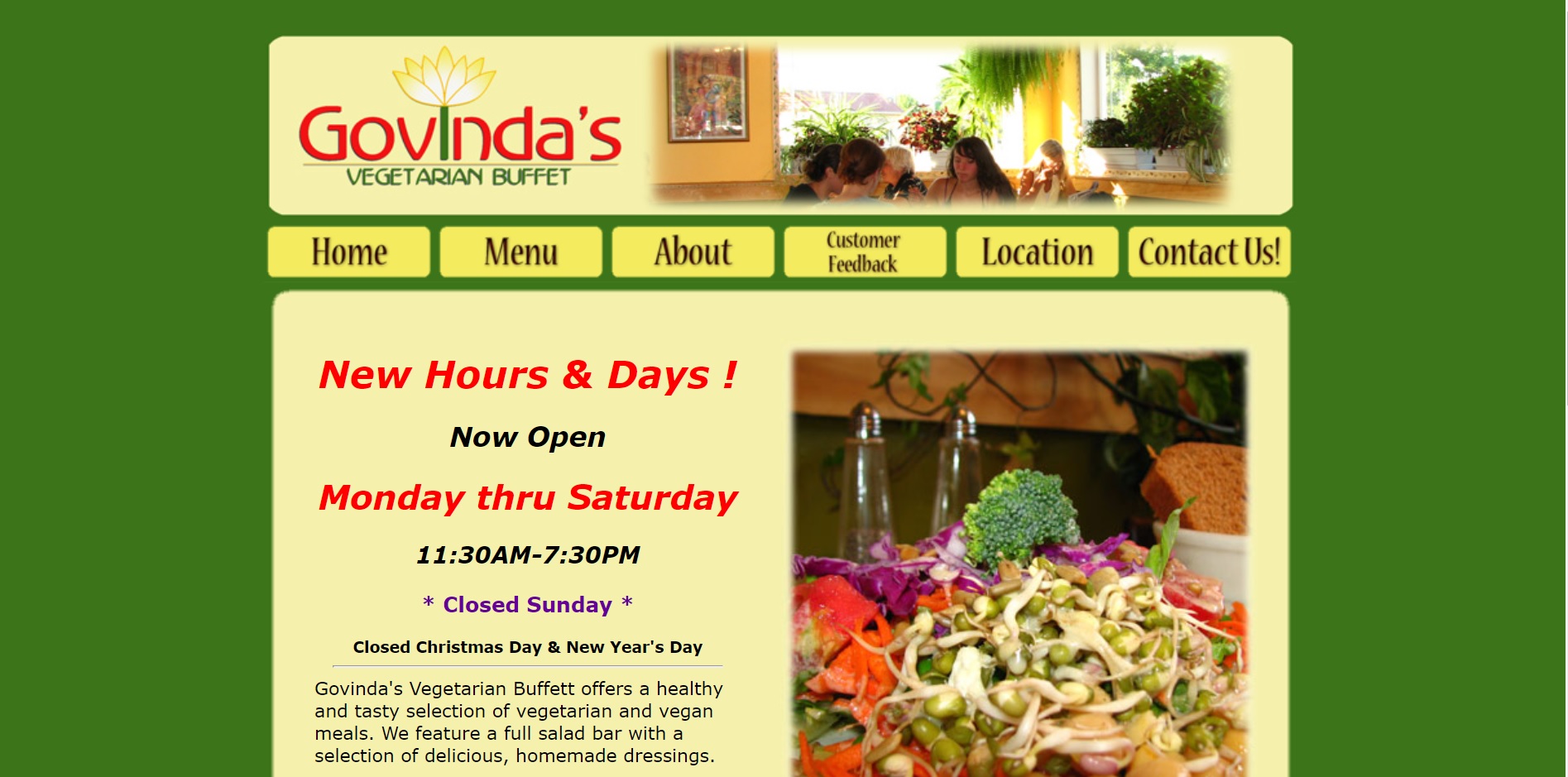 Govinda's Vegetarian Buffet
1030 River Road, Eugene, 97404, United States
One of my faves in Eugene!

All you can eat prices: $7.95 adults, $6.95 students and seniors (60+), $4.95 12 and under. In addition, you can have just the salad bar for $4.50, soup salad and bread for $5.95 or soup and bread for $3.00. Bottled sodas, juices, chai, and herbal tea are all $1.05.

The veggies in the salad section were very fresh and varied - beets, sprouts, olives, on top of the usual fare of lettuce, cucumbers and tomatoes. The highlight, however, was the salad dressings! There were 2 in particular, almond and sesame, which were so tasty. The very friendly owner was nice enough to share the recipe to both.

The hot section had few choices. I was the only one who took the greens and potato dish (I love greens and gave the potatoes to my 2 year-old). There was also brown and white rice, excellent dal and sambar, and to our delight, idli! It is my daughter's favorite food and was fresh off the steamer. There was also a coconut milk sauce which was a little bland but fresh. There were 3 homemade chutneys, coconut, plum and tamarind which tasted authentic and fresh.

The dessert was a mix of 2 halvas, banana and almond, and we all relished it.

We all loved our meal and felt good afterwards. The food was simple, fresh and tasty. The restaurant was clean and simple. The service was prompt and friendly; the owner answered all questions patiently and was happy to talk about his food and passion.

I highly recommend Govinda's! I've experienced very few restaurants that have such a consistent positive vibe. The building is small (it used to be a dairy queen) and sweetly decorated with framed Krishna prints. It's full of light, colorful, and clean. And it's inexpensive.
Available beverages:
Offers fair-trade drinks
Menu example (eatery):
Lacto, vegan-friendly, organic, Indian, buffet, salad bar, Hare Krishna
Average starter cost (eatery):
5.95
Average mains costs (eatery):
7.95
Facilities:
Disabled facilities
Parking
Toilets
How well does it cater for vegans?:
Vegan-friendly
Vegetarian
BUSINESS REVIEWS
0.0 average based on 0 Reviews
---
There are no reviews at the moment
1030 River Road, Eugene, 97404, United States